Cebu Normal University participated in The 2nd Course of Language and Culture of Indonesia (CULTURA) 2023 which was held from July 3rd to August 16th via Zoom. CULTURA 2023 was a six-week virtual summer course program hosted by the Sultan Agung Islamic University (UNISSULA).
Students from different universities from different countries such as the Philippines, Vietnam, China, Chile, India, Pakistan, South Korea, Taiwan, Thailand and the U.S.A. huddled virtually to learn about the Indonesian language and culture.
Cebu Normal University was represented by the following students: Noel Junior Quijano and Krestine Velos from the College of Teacher Education; Lendejhar Pescador and Lera Jane Camangyan from the College of Arts and Sciences; Shenna Montero from the Balamban Campus; and Delight Rosales from the Medellin Campus. These students were endorsed by the College IZN Focal Persons.
The opening ceremony and first session had the students introduced themselves coinciding the first lesson about "Salam" or the basic Indonesian courtesy. Hon. Rio Pribadi, Head of the Office of International Affairs (UNISSULA), briefed the students everything about the program.
Over the next sixteen meetings, the students engaged in different learning activities and cultural exchanges, on the "Alfabet", on the "nama-nama hari" which translates to "names of the days" and "nama-nama bulan" or "names of the months", on "angka dalam Bahasa Indonesia" or "the numbers in Indonesian", on "Perkenalan" or "Introducing Oneself", and even the "kata ganti orang" or "pronouns". The students also carried out homework and tests, as well as presentations of their "keluarga" or "family".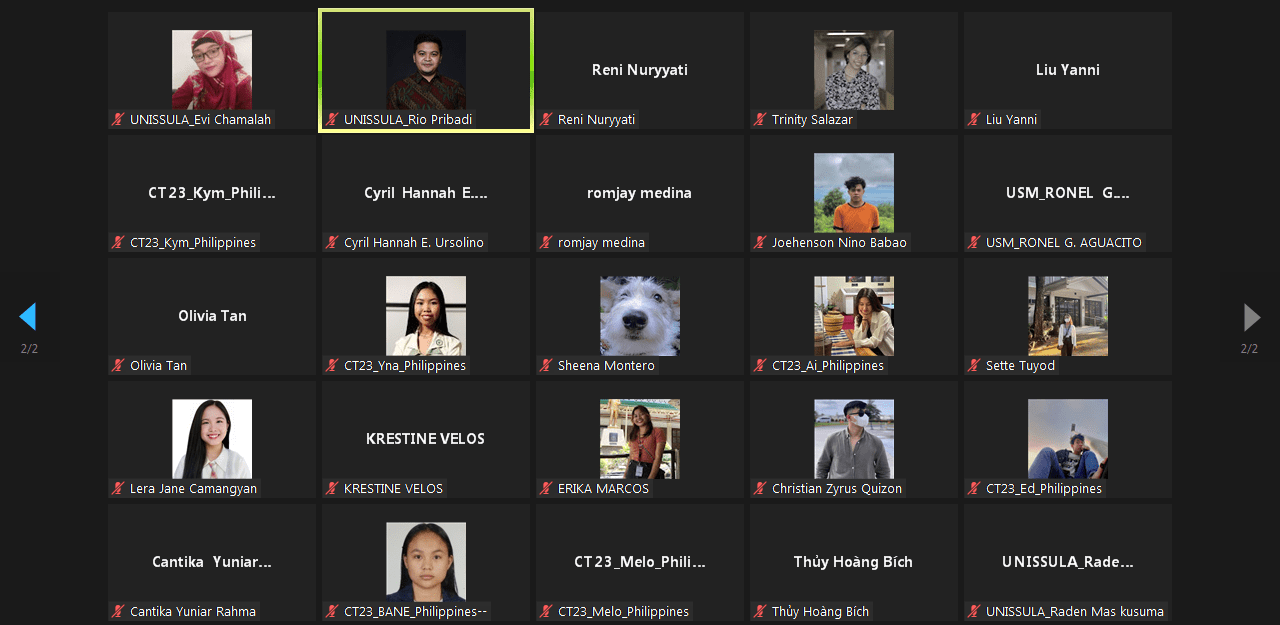 As the final assignment, the students were tasked to either cover a traditional Indonesian song or recite an Indonesian poem with corresponding awards up for grabs. For a remarkable triumph, all winners from the final assignment were from the Philippines and were recognized during the CULTURA 2023 closing ceremony. Our own Krestine M. Velos won the "Most Liked Performance" award. The winning students' performance videos were presented as well. All students who completed the virtual summer course program were given a certificate as well as a letter of credit.