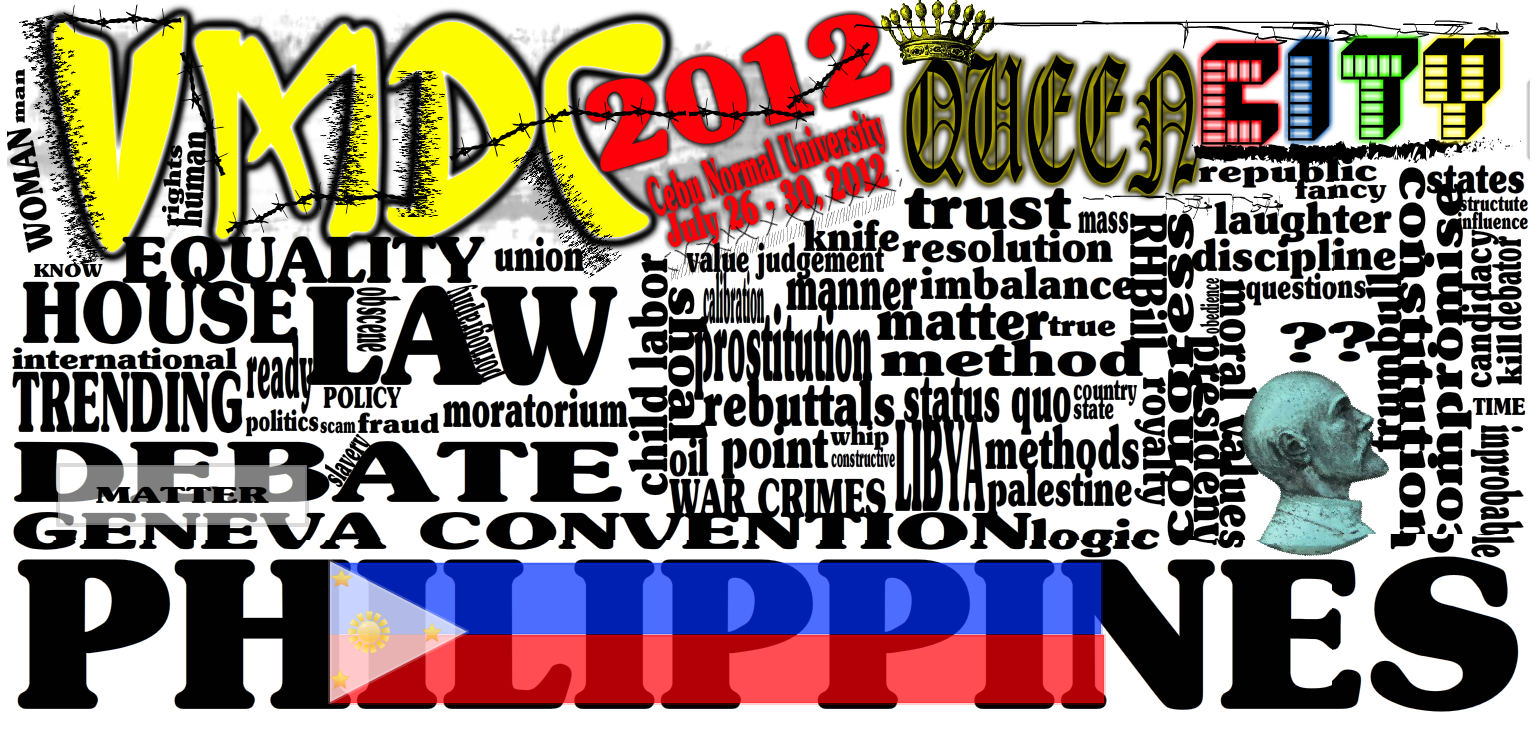 The 6th Visayas Mindanao Debate Championship, which was hosted by Cebu Normal University on July 26-30, gathered over 200 debaters from the Southern Philippines. The tournament was participated by Ateneo De Davao University, Xavier University, De La Salle University (Manila), Mindanao State University (Marawi), Mindanao State University (Iligan), Brent College, Western Mindanao State University, Ateneo De Zamboanga University (College), Ateneo de Zamboanga (High School), UP-Cebu, UP-Tacloban, Silliman University, University of San Jose Recolletos, University of Cebu, Cebu Institute of Technology University, Springdale HS, Isis HS and CNU. My team (with partner Annaly Estores) ranked 7th out of 66 teams and we reached Quarterfinals.
Here are the lists of he 6th Visayas -Mindanao Debate Championship Winners:
Rene Gandeza Jr.
Lee Arvin Gogo
Joseph Jalotjot
Francis Reyes
David Jalotjot
Roland Umanan
Calvin Penaco
Gab Billones
Rene Gandeza Jr.
Kurt Recinto
Justin Tan
Adrian Uro (AdZU)
BEST DEBATER of the Tournament
Giano Libot (XU)
Roland Umanan (AdDU)
CNU A :     Top Breaking Team of the Visayas COntingent
Number 7 Top32 teams of 66 teams Quarterfinalists
CNU D:    Top 28 of 32 (Octofinalist)
CNU H:    Top 14 of 32 (Octofinalist)

Now on its 6th year, the Visayas-Mindanao Debate Championship (VMDC), the largest and most prestigious regional debate tournament in the southern Philippines will be hosted by Cebu Normal University  (CNU) on July 26-30.
The 4-day tournament expects to gather around 200 students and affiliates from universities and colleges from all over the two regions and pit them against each other in an exhilarating display of talent in public speaking and analysis of pressing national and international issues.
The tournament will follow the British Parliamentary debate format where rounds will be composed of four teams from 4 different institutions with 2 speakers each team. Motions or topics will be issued on the spot and debaters will  only be given 15 minutes to prepare.
The CNU Debate Society in collaboration with the CNU Administration will be sharing the passion for debate excellence and creativity through VMDC. The tournament has become a well-anticipated event for the month of July.