ENGLISH LANGUAGE TEACHING ASSISTANT IN SPAIN
Are you passionate about teaching English and eager to make a positive impact on students' language skills?
In partnership with Cebu Normal University, the Spanish Ministry of Education is looking for qualified applicants who will get to teach in Spain and obtain professional development experience as an international teacher while immersing themselves in the Spanish culture.
If you have a love for language, a desire to inspire, and a commitment to fostering a vibrant learning environment, we encourage you to apply!
Education:
Must be a graduate of Cebu Normal University with a degree in BA English Language or Literature, BSED English, or BA Communication, and graduates of other courses equipped with proficiencies in English and Spanish language
With a General Weighted Average (GWA) of at least 1.70
Additional certifications in DELE/SIELE, IELTS, TESOL, TEFL, CELTA, or similar qualifications will be advantageous.
A PRC license or Diploma of Professional Education is an advantage.
Language proficiency:
Proficient in English with excellent written and spoken communication skills
Spanish fluency with at least an A1 level 108-hour Spanish language course, two-semester Spanish classes, or 126-hour Spanish language training from Instituto Cervantes * Graduates from CNU with no Spanish should join the Instituto Cervantes as students of A1.
Teaching Experience:
Teaching experience is a must
Teaching experience with international students is a plus.
To apply for the position of English Language Teaching Assistant, please provide details and submit the following documents (all in one PDF
1. Latest Resume/Curriculum Vitae
2. Reference Letters (two reference letters from CNU faculty members that can attest to your abilities and character)
3. Copy of the Transcript of Records
4. Copy of relevant trainings
Orientation Schedule: 1st week of October
(meeting details to be announced)
Application Deadline: September 30, 2023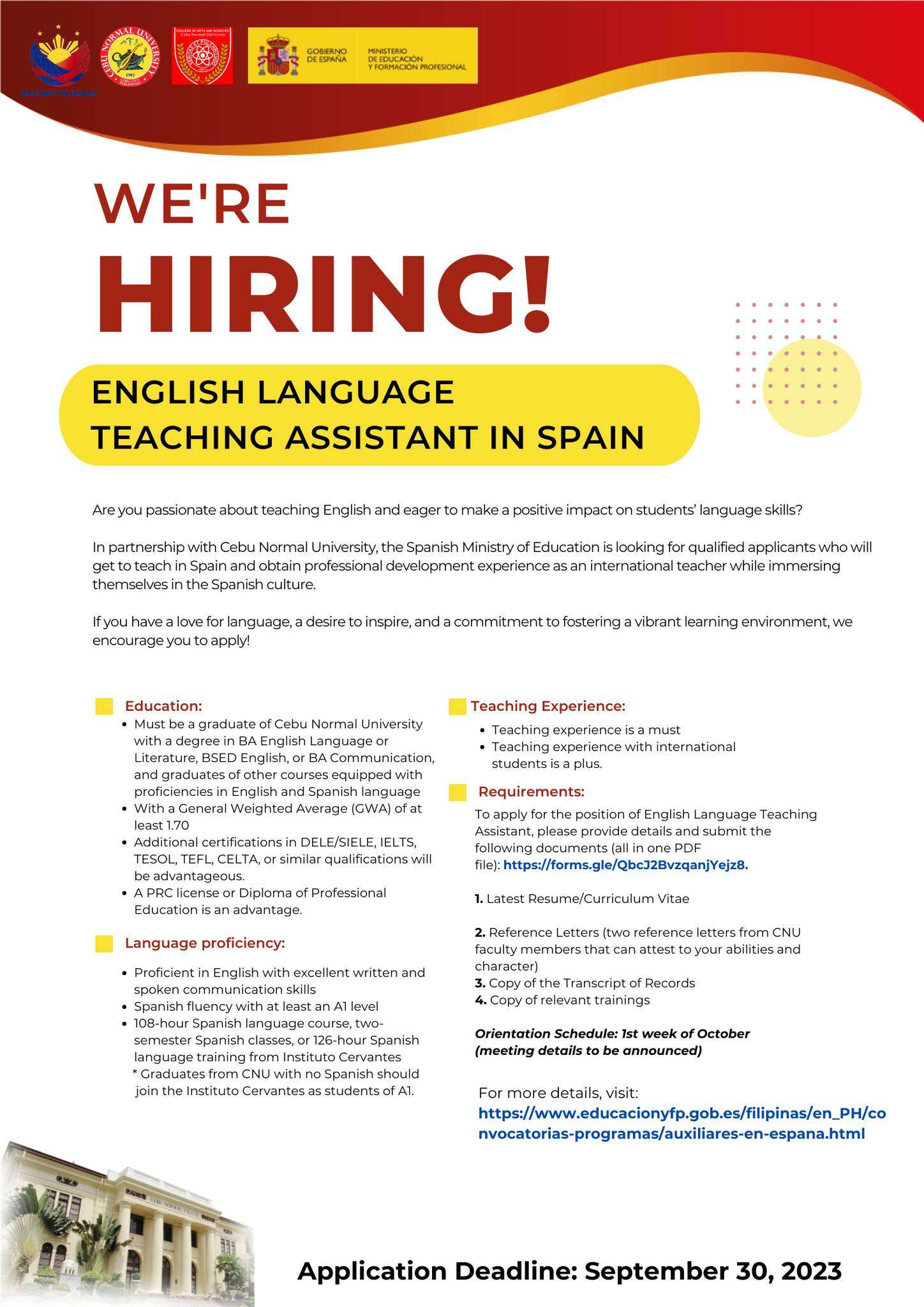 Be empowered and explore new horizons!
The orientation for the English Language Teaching Assistant Program in Spain will take place on October 3, 2023, at 12:00 PM to 2:30 PM. This event is open to all CNU Graduates.
This orientation is the next step to the selection process. Learn about the essentials of the program for your journey to obtain professional development experiences as an international teacher.
To register, please complete our form here:
For inquiries about the program, please email:
Dr. Jollibee A. Aharul
Chair, TWG for LAP in Spain
aharulj@cnu.edu.ph
Please use your personal email for any inquiries.