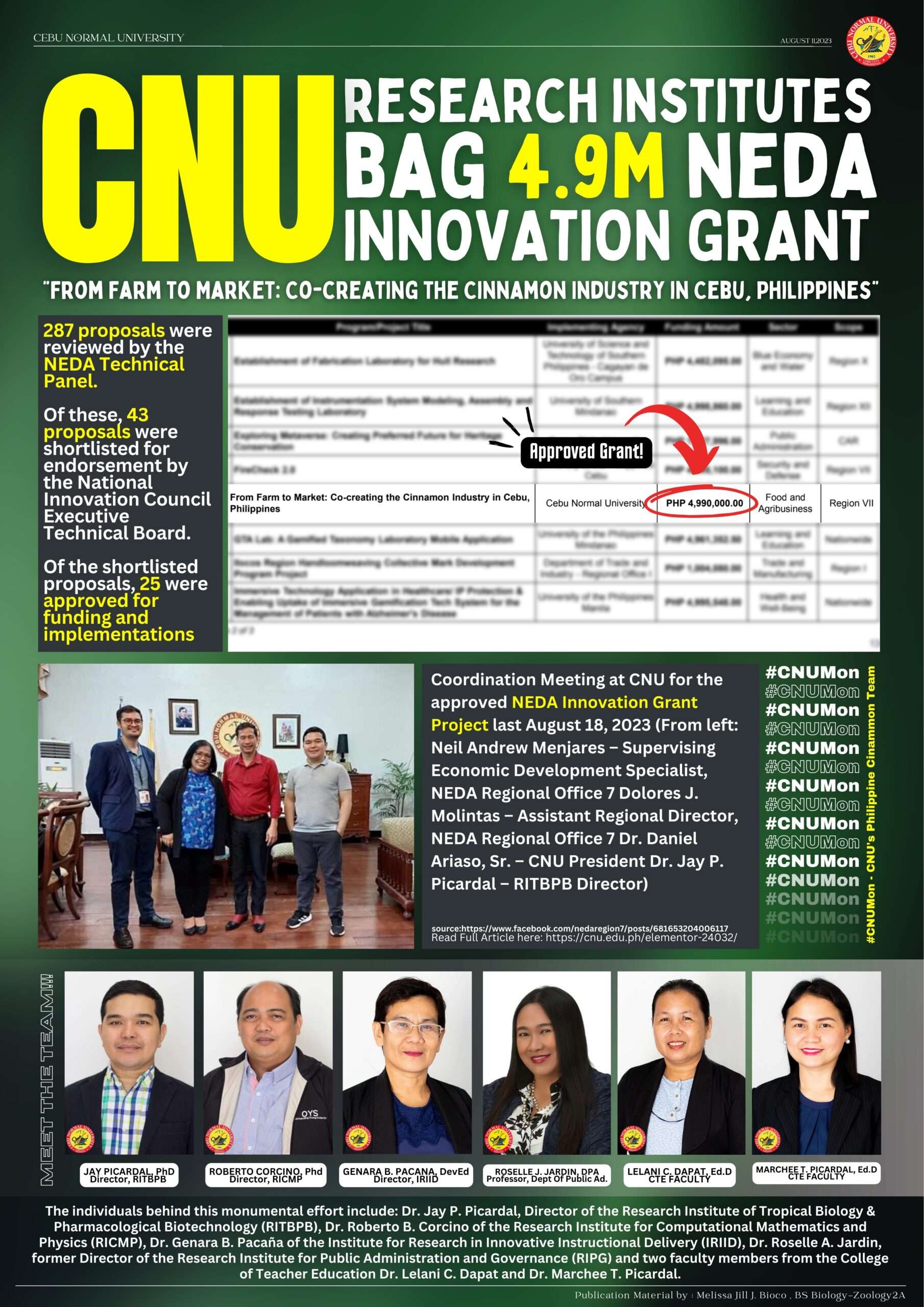 The National Innovation Council – Executive Technical Board (NIC-ETB) of the National Economic and Development Authority (NEDA) has approved a ground-breaking initiative sponsored by Cebu Normal University (CNU) to transform the cinnamon sector in Cebu, Philippines on August 11, 2023. The NIC-ETB determined that Cebu Normal Univrsity's proposal showcased innovative solutions that can significantly unlock new opportunities towards national development and sustainable economic growth.
The project attempts to capitalize on the economic and community development potential of Philippine cinnamon. It was chosen among 287 proposals because of its inclusive approach for social innovation. The primary goal is to set up an innovative cinnamon processing plant in order to increase product quality and match worldwide requirements. Local farmers will be trained to maintain quality and safety using successful foreign models. In addition, the project intends to provide training programs, workshops, festivals, and a regulatory framework to encourage innovation, community engagement, and sustainability.
As the project moves forward, Cebu Normal University, NEDA Regional Office 7 – Central Visayas, and a diverse team of experts from various fields are set to collaborate closely to realize the project's ambitious goals. The individuals behind this monumental effort include: Dr. Jay P. Picardal, Director of the Research Institute of Tropical Biology & Pharmacological Biotechnology (RITBPB), Dr. Roberto B. Corcino of the Research Institute for Computational Mathematics and Physics (RICMP), Dr. Genara B. Pacaña of the Institute for Research in Innovative Instructional Delivery (IRIID), Dr. Roselle A. Jardin, former Director of the Research Institute for Public Administration and Governance (RIPG) and two faculty members from the College of Teacher Education Dr. Lelani C. Dapat and Dr. Marchee T. Picardal.
This project was recommended for approval by former VP – REP, Dr. Angeline M. Pogoy and endorsed to NEDA Innovation Council by then OIC to the Office of the President, Dr. Filomena T. Dayagbil. During the project's implementation, the new management under the leadership of our university President, Dr. Daniel A. Ariaso, Sr. and with the supervision of the newly-designated VP REP, Dr. Rufina C. Rosaroso.
The approval of the "From Farm to Market: Co-creating the Cinnamon Industry in Cebu, Philippines" project serves as a testament to the power of innovation and collaboration in propelling economic growth and fostering community empowerment. As Cebu, Philippines prepares to embark on this transformative journey, the nation watches with eager anticipation as the aromatic potential of cinnamon is unlocked, paving the way for a brighter and more sustainable future.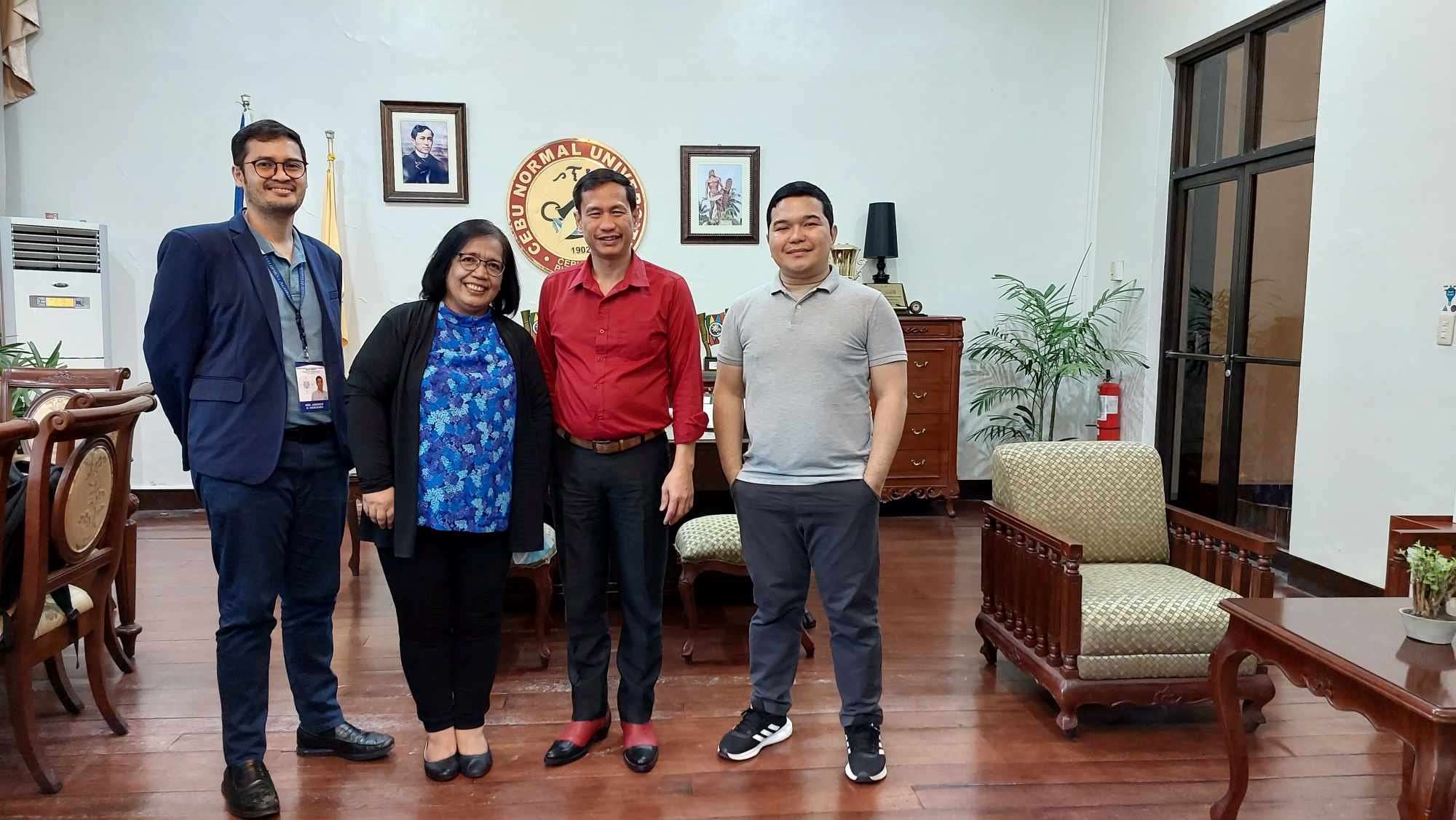 Words by: Marie Therese Pacaña, BA COMM – JOURNALISM III