LEARNING DEVELOPMENT CENTER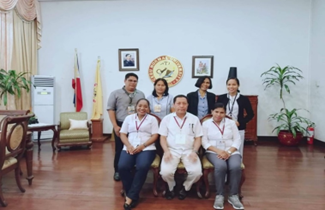 Office of the University President
The Office of the University President hosts small group gatherings for partners of the university hosted by the highest official of the university. Exploratory talks for collaboration and signing of partnerships are done in the said office.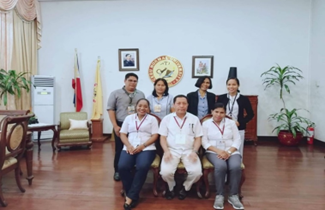 Office of the Vice-President
The university has three Vice-Presidents which include the Administration, Academic Affairs, Research, Extension, and Publication. These offices host collaborative talks, partnership engagements, and small group discussions on specific areas of interest with partners. Coordination with relevant offices for identified areas of cooperation are facilitated by these offices to ensure the smooth flow of operations.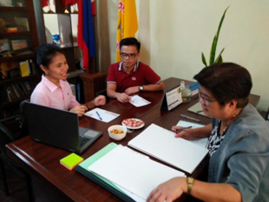 External Affairs and International Linkages Office
This is an administrative office that establishes linkages with foreign institutions for academic and socio-cultural partnership with local government units and private organizations. It serves as the managing coordinating office for faculty, staff and student exchanges and travel abroad.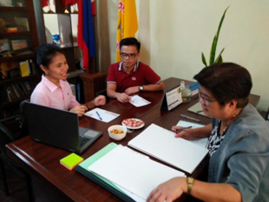 Office of the College Deans
For academic partnerhsips and points of collaboration in identified fields of specialization, the university has four colleges: College of Teacher Education, College of Nursing, College of Arts and Sciences, and the Cebu Normal University-Vicente Sotto Memorial Medical Center College of Medicine. These offices have resources specific to their discipline and cater to international, national, and local partners for possible collaborations. All colleges except for the newly-opened College of Medicine are accredited for quality offerings and have track records for quality research and extension services as well.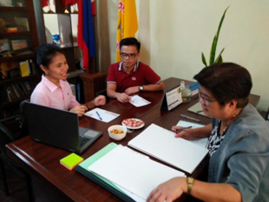 The CNU Learning Resource Center covers two floors of the Libary Building. More than just its books, journals, and other references available in both soft and hard copies, the Center provides various discussion centers and lecture areas ranging in different sizes to cater to clients' needs. The entire space has been designed to encourage productive and meaningful discussions with the needed equipment for support when applicable. For more information, just visit the LRC website at www.library.cnu.edu.ph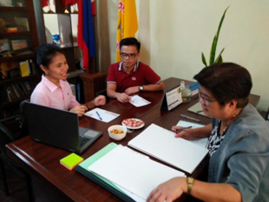 Foreign Language Classroom
An air-conditioned classroom with a built-in white screen and whiteboard plus an exclusive projector which provide the teachers and students to have engaging technology-integrated classes or meetings. This classroom can house 30 persons and has a small office beside it intended for academic consultations especially those related to foreign language studies.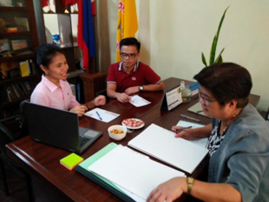 An exploratory and interactive hall for interest clubs and organizations in a variety of educational activities like  the annual holding of Cebu Learning Express with Singapore Polytechnic, Singapore.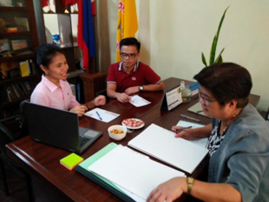 Dedicated semi-outdoor space that can hold activities like college graduation, convocation, conferences, seminars and workshops, CNU family gatherings and other international academic activities are also held in the venue. This hall serves as student activity center.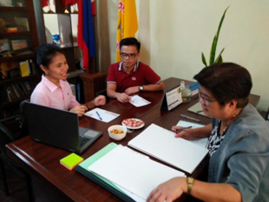 Stimulating center for arts and socio- cultural activities that can house 600 theater type academic and cultural engagements.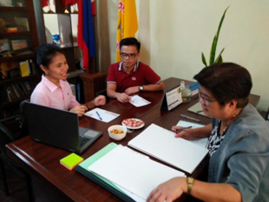 This space is another semi-outdoor area where students can hold various co-curricular and extra-curricular activities. This area is near the university gate and offers additional learning spaces for engagement for the university's clients.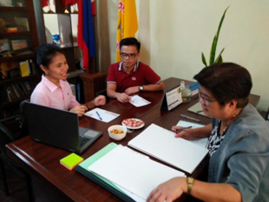 The CNU Centennial Stage is another semi-outdoor facility that can accommodate as many as 200-250 people. It is usually used for group dynamics or activities requiring a lot of space and movement. Student and faculty teambuilding activities and other similar capacity-building events are hosted in this venue.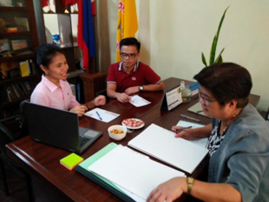 This conference room can cater to around twenty occupants for round table discussions with partners. Hosted in the College of Nursing Building, this area is also equipped with presentation facilities in order to aid productive engagements with partners.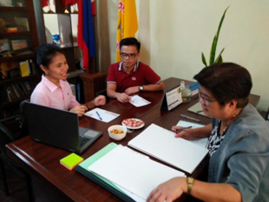 CNU International Guest House
This guest house provides simple accommodation for international guests inside the campus. It has its own rest room and large enough space for a king-sized bed, cabinet, dining table, and a small reception area.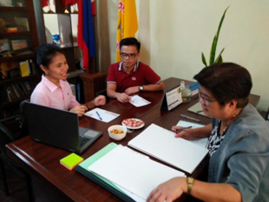 Eva Macapagal Memorial Art (EMMA) Center
An air conditioned room that fosters creative arts experiences, like short-play production in an intimate environment. This can also house music performances like recitals, art exhibitions among others. 
A leading multidisciplinary research university in education committed to build a strong nation.
To develop high performing professional educators who generate new knowledge and help build progressive and peaceful communities.
The Extension Services of the University are geared towards empowering the communities to be self-reliant through capability building and knowledge generation.
Provide basic literacy and numeracy, informal education, and skills training for income generation
Deliver healthcare to families and communities through promotive, preventive and rehabilitative healthcare program administration
Train to preserve and protect the ecosystem for sustainable development
Generate employment and augment income through entrepreneurial skills, value savings and cooperative education
Preserve Filipino values and cultural heritage through socio-cultural awareness programs
Hold trainings on skills enhancement and leadership for transparent and credible governance.
INTERNATIONAL PARTNERS
COMPLETED STUDENT EXCHANGES (INBOUND AND OUTBOUND)
INTERNATIONAL PARTNERS
No.

INSTITUTION

COUNTRY

AGREEMENT DATE

NATURE OF LINKAGES

1

Aletheia University

Taiwan

Dec. 28, 2009
BOR 67, s2017

Academic Cooperation

2

Aletheia University (MOA) for Student Exchange Agreement

Taiwan

BOR 27, s2019

Academic Cooperation

3

Asia University

Japan

BOR 51, s2018


Academic Cooperation

4

Association for Friendship and Education Promotion (AFEP)

China

BOR 76, s2019

Academic Cooperation

5

Association of Universities of Asia and the Pacific

BOR no. 19 s2020

Academic Cooperation

6

Chiang Mai University

Thailand

BOR 51, s2018

Academic Cooperation

7

China Jiangsu Overseas Education Service Center

China

BOR 51, s2018

Academic Cooperation

8

Chinju National University of Education

South Korea

Feb 15, 2013
BOR 2, s2013

Academic Cooperation

9

Chonnam National University

South Korea

Apr 3, 2015

Academic Cooperation

10

Chungnam National University

South Korea

Jul 13, 2015
BOR 59, s2015

Academic Cooperation

11

Conestoga College of Institute of Technology and Advanced Learning

Canada

BOR 53, s2016

Nursing and Teacher Education

12

Dongseo University

South Korea

BOR 51, s2018

Academic Cooperation

13

Fujian Normal University

China

BOR 80, s2021

Academic Cooperation

14

Huai Yin Normal University

China

BOR 49, s2019

Teacher Education

15

Institute of Technical Education

Singapore

BOR 103, s2016

Nursing

16

JIANGSU Maritime Institute

China

BOR 58, s2019

Arts and Humanities, Teacher Education

17

Lambung Mangkurat University

Indonesia

BOR 49, s2019

Social Sciences, Teacher Education, Nursing

18

Lianyungang Technical College

China

BOR 58, s2019

Teacher Education


19

Mackay Medicine, Nursing and Management College

Taiwan

BOR 41, s2014

Nursing


20

Minnan Normal University

China

BOR 103, s2016

Teacher Education


21

Monash University

Australia

BOR 67, s2017

Teacher Education


22

Namseoul University

South Korea

BOR 67, s2017

Teacher Education


23

Naresuan University

Thailand

May 9, 2014
BOR 38, s2013
BOR 67, s2017

Nursing Education


24

National Kaohsiung First University of Science and Technology

Taiwan

BOR 41, s2014


Arts and Science

25

Netherlands Institute of Ecology

Netherlands

BOR 58, s2019



Sciences


26

North Island College

Canada

BOR 53, s2016


Nursing


27

Queensland University of Technology

Australia

BOR 53, s2016


Nursing


28

Republic Polytechnic

Singapore

BOR 49, s2019


Teacher Education


29

Royal Roads College

Canada

Academic Cooperation



30

Shu-Te University

Taiwan

BOR 67, s2017


Academic Cooperation


31

Singapore Polytechnic – Learning Express

Singapore

BOR 45, s2020


Learning Express Program


32

Singapore Polytechnic – Documentary Film Projects

Singapore

BOR 46, s2020


Academic Cooperation


33

Stikes Husada

Indonesia


BOR 58, s2019


Nursing


34

Stikes Muhammadiyah Palembang

Indonesia

Nursing


35

Stikes Muhammadiyah Tasikmalaya

Indonesia

2012

Academic Cooperation


36

Thompson Rivers University

Canada

Academic Cooperation


37

Tra Vinh University

Vietnam

Dec 11, 2013
BOR 37, s2013


Nursing Education


38

Tunghai University

Taiwan

BOR 51, s2018


Academic Cooperation


39

United States Agency for International Development (USAID)

2021


Academic Cooperation


40

Universidad Catolica San Antonio de Murcia

Spain

BOR 53, s2016


Arts and Sciences


41

Universiti Pendidikan Sultan Idris

Malasya

BOR 67, s2017


Teacher Education


42

University Catholic de Lille

France

BOR 103, s2016


Academic Cooperation


43

University Mobility in Asia and the Pacific (UMAP)

Japan

BOR 79, s2019


Academic Cooperation


44

University of Muhammadeyah Lamongan

Indonesia

Nov 15, 2011

Nursing Education


45

University of Muhammadeyah Purwokento

Indonesia

Dec 15, 2011
BOR 41, s2014

Nursing Education


46

University of Muhammadeyah Stikes

Indonesia

Nov 15, 2011


Nursing Education


47

University of Muhammadeyah Yogyakarta

Indonesia

BOR 41, s2014

Nursing Education


48

University of Muhammadiyah Jember

Indonesia

2012


Academic Cooperation


49

University of Quebec Montreal (UQAM)

Canada

Jul 26, 2014
BOR 41, s2014


Academic Cooperation


50

University of South Australia

Australia

BOR 67, s2017


Teacher Education


51

University of Suwon

South Korea

BOR 41, s2014


Physical Education


52

University of Texas Health Science Center

USA

BOR 51, s2018


Academic Cooperation


53

Zhenjiang University

China

BOR 51, s2018


Academic Cooperation

COMPLETED STUDENT EXCHANGES (INBOUND AND OUTBOUND)
COMPLETED EXTENSION PROJECTS
| PROJECT TITLE | COLLEGE | YEAR COMPLETED |
| --- | --- | --- |
| Katilingbanung Turismo | Arts and Sciences | 2020 |
| Kwarta sa Tinapa: A Sardine-Canning Livelihood for Gibitngil, Medellin, Cebu | Medellin Campus | 2020 |
| PROJECT TITLE | COLLEGE | YEAR COMPLETED |
| --- | --- | --- |
| Amahan Ikaw Among Dalangpan/Amahan Nalamdagan | Nursing | 2019 |
| Bantawan ni Juan: A Cultural Arts Preservation Project | Teacher Education | 2019 |
| Chika Ta! Come Help in Building Knowledge on a Greener Nation | Arts and Sciences | 2019 |
| CN Health Team: Nars Ko, Kapamilya Ko | Nursing | 2019 |
| Community Readers, Community Builders | Arts and Sciences | 2019 |
| Dengue Awareness, Prevention and Control Measures | Arts and Sciences | 2019 |
| Enhanced Written and Oral Communication with Barangay Officials | Arts and Sciences | 2019 |
| Eskwelahan Para Di Matukhang: A Peer Faciltitator Drug Prevention Program for HS Students | Teacher Education | 2019 |
| Ininglis Sa Kabantan-onan, Giya sa Panginabuhi | Arts and Sciences | 2019 |
| Kaanyag Mo, Panginabuhi Ko: Empowering through Livelihood Skills Training in Hairdressing | Teacher Education | 2019 |
| Parenting Education: The E-HELP Model | Teacher Education | 2019 |
| Kakugi Ko, Kalambuan Mo (KKK) | Teacher Education | 2019 |
| Katigulangan Ko, Kaayuhan Ko | Nursing | 2019 |
| Kapamilya Kontra Katalagman | Nursing | 2019 |
| Kita sa Di Malata: A Livelihood Program | Teacher Education | 2019 |
| Lagundi Mo, Kaayuhan Ko | Nursing | 2019 |
| MASTER NAT | Arts and Sciences | 2019 |
| Mga Kabataan sa Caputatan Norte, Unsay Inyong Padulngan | Arts and Sciences | 2019 |
| Mugna: Shakespeare in the Barrio | Arts and Sciences | 2019 |
| My Skills, My Key, My Future | Nursing | 2019 |
| Nanay-Tatay's Teacher: An Alternative Home-Based School Remedial | Arts and Sciences | 2019 |
| Paglimpyu Ku, Kahimsug Mu Phase 2 | Arts and Sciences | 2019 |
| Push It Tay!, Hold It Nay! Strengthening Marital and Parental Responsibilities of Couples in Barangay Nangka, Balamban, Cebu | Arts and Sciences | 2019 |
| Saving Health, Shaping Lifestyles: A Wellness Intervention Program | Teacher Education | 2019 |
| Tawag Ng Pangkabuhayan: A Skills and Literacy Training Geared Towards BPO Employment for HS Graduates of Barangay Antipolo, Medellin, Cebu | Teacher Education | 2019 |
| The Superman in a Woman | Integrated Laboratory School | 2019 |
| Youth Entrepreneurship: From OSY to Successful Entrepreneurs | Teacher Education | 2019 |
| PROJECT TITLE | COLLEGE | YEAR COMPLETED |
| --- | --- | --- |
| Basic Computer Literacy | Nursing | 2018 |
| Establishing an Electronic PIO Center for Good Governance | Balamban Campus | 2018 |
| Friend Ko, Teacher Ko: A Peer Tutoring Program | Teacher Education | 2018 |
| Giya sa Kaugmaun sa Kabatan-unan  | Arts and Sciences | 2018 |
| Kaangayan: A Public Education Workshop on Social Justice | Arts and Sciences | 2018 |
| Math for NAT | Arts and Sciences | 2018 |
| Read Today, Lead Tomorrow | Arts and Sciences | 2018 |
| Rescue 248/N-ALERT | Arts and Sciences | 2018 |
| Sustainable Barangay Cooperative | Arts and Sciences | 2018 |